Yumi Toda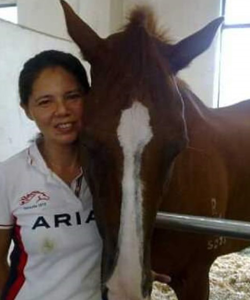 I started riding at the age of 10 and since then have competed successfully in all three disciplines: dressage, jumping and eventing locally. I completed Hong Kong Pony Club "C" Test at a young age and have represented Hong Kong Pony Club competing in Young Rider Dressage in Perth, Australia and Inter-Pacific Exchange in Japan. I also achieved 2nd place of FEI 2002 Show Jumping Challenge in 1.05m and 2003/04 Horse of the Year award for Dressage.
Apart from being a competitor, I am also very involved with the re-training of ex-racehorses and the teaching of riders. I taught as a part-time instructor in various riding schools until 2006.
I completed my British Horse Society exams in 2017. In 2009, I achieved a Trainer "C" Certificate in Germany, and I became qualified as a Basic Vaulting Trainer in 2010.
I have worked as full-time instructor at Lo Wu saddle Club and Beas River Riding Centre. After that, I worked as Operations Manager for Riding for the Disabled Association as well as a trainer of the Para Riders.